Housed in a £90m state of the art research and knowledge exchange environment, the laboratory contains a reconfigurable 400 V three-phase AC power network with multiple controllable voltage supplies and loads with flexible control systems and interfaces. The laboratory has power hardware-in-the-loop (PHIL) and controller hardware-in-the-loop (CHIL) capabilities. The network and devices are used to test and demonstrate smart grid technologies within a controlled environment, and under steady-state and abnormal conditions.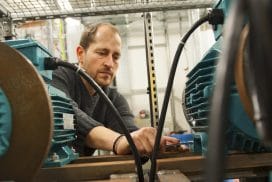 Typical areas of research include: high-fidelity real-time simulation, integrated control and communications characterisation, flexible microgrid for dynamic systems studies, emulation of converter dominated systems, flexibility services from DER and energy storage, protection evaluation, PMU test bed distributed control, pre-certification testing, islanded (and auto-islanding) power systems, and dynamic power systems (e.g. marine/emergency).
Location: Glasgow, United Kingdom

For Management/Administration Issues:
Graeme Burt
Tel.: +44 (0)1415482990
Email:
[.][at][.][.]
Mazher Syed
Tel.: +44 (0)1414447279
Email:
[.][at][.][.]
Expertise: Demand side management, distributed control, PHIL, CHIL.
Richard Munro

Email:
[.][at][.][.]
Laboratory Technician
Efren Guillo-Sansano
Tel.: +44 (0)1414447280
Email:
[.][at][.][.]
Expertise: Converter testing, power quality, PHIL, CHIL, islanded power systems.