The HEDNO L&R Section, located in Athens, Greece, provides an exceptional precision, validation and testing infrastructure allowing the testing of single devices of measuring equipment – especially smart meters and measurement transformers – which have great influence on the Hellenic Power Grid. The laboratory has been accredited by the National Accreditation Body "ESYD", in order to comply with the general requirements of ISO/IEC 17025 which is the main ISO standard used by testing and calibration laboratories.
Location: Athens, Greece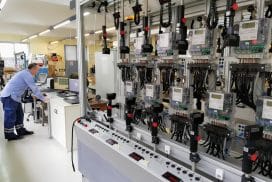 Smart metering testing facility: The metering lab facilities have advanced capabilities in order to conduct various tests including testing, certification, calibration and validation of all types of electricity meters (electromechanical and smart). The facility consists of:
A configurable Three-Phase Meter Calibration Set. The model of the set is the IskramaticCATS-083.030.735 Meter Test Station. The calibration set is suitable for experiments in threephase / single-phase meters for active and reactive power of all types (optionally adding various harmonics). The testing processes are managed and monitored via IT infrastructure and the data are stored there. The calibration set consists of an electronic power source (EPS 80-3H- ERIGrid Meter Supply Unit) and two movable racks with 20 adjustable positions, thus it can test 40 meters simultaneously.
A Three-phase Comparator Zera COM3003.
Computer Aided Testing System (C the equipment.
Warm-up Device for Electric Meters (Type ND 409)
Measuring transformers testing facility: The facility is used in order to conduct various tests including testing, certification, calibration and validation of current measuring transformers (MV, LV) and voltage measuring transformers (MV). It consists of an Automatic Instrument Transformer Test Set (Tettex 2767) which includes:
Standard Voltage Instrument Transformer (Tettex 4820)
Current Comparator (Tettex 4761).
Current and Voltage Burden (Tettex 3631)
This test set is a fully automatic instrument for fast, accurate measurement of instrument transformer errors. It is measuring continuously and displaying in digital form current or voltage error as well as phase displacement. The dielectric strength is measured as well.
The laboratory itself is supplied from the local 20 kV medium-voltage power grid via two  independent medium- and low-voltage (MV/LV) transformers. The test facility has been used for multiple applications, in order to ensure that the equipment used in the grid complies with national international grid codes and standard based on the accreditations  held by L&R section of the HEDNO's Network Department.
In the HEDNO L&R laboratory the main services provided are as follows:
Testing of electricity meters (electro-mechanical).
Programming and testing of smart meters (local & remote).
Testing of electricity meters installed on the grid.
Testing of current measuring transformers (MV, LV) and voltage measuring transformers (MV).
Certification of electricity meters (customers, suppliers) and transformers.
Validation of methods of measurements (according to ISO/IEC 17025).
Integration of standards
Technical support to the Remote Measurements Operation (section of Network Department).
Cooperation with other Departments of HEDNO, concerning the installation of electricity meters on the grid.
Furthermore, the L&R section cooperates with the Remote Measurements Operation section of the HEDNO's Network Department. The Remote Measurements Operation Section refers to the following:
Telemetering of Medium Voltage Customers.
Telemetering of Low Voltage Customers with contractual power higher than 55 KVA.
Telemetering of PVs and other RES.
Metering data security and personal data protection.
Customer data analysis.
HEDNO S.A. (Hellenic Electricity Distribution Network Operator S.A.) was formed by the separation of the Distribution Department from PPC S.A.in order to comply with the 2009/72/EC EU Directive. The company's tasks include the operation, maintenance and development of the power distribution network in Greece, as well as the assurance of a transparent and impartial access of consumers and of all network users in general. The company aims at providing reliable power supply to all customers, quality of electricity voltage and constant improvement of quality in services. Its mission and vision are the response to its customers' expectations and the contribution to the development and welfare of fellow citizens with respect to people and to the environment.
The projects executed by HEDNO S.A. refer to the following:
The fulfillment of the users' requests
Network Development
Network exploitation works
Normal and efficient operation of the Electricity Market as far as networks are concerned
Reliable and economical advantageous operation of the islands autonomous electricity systems
HEDNO believes strongly that its participation in relevant research programs aids to its commitment to keep up with the technological progresses and use state of the art technologies in order to serve in the optimal way the needs of its customers and the society. Hence its participation in various European research programs such as TILOS, SmarterΕΜC2, WiseGRID, SHAR-Q, GRIDSOL, etc.
Do you have questions left? Feel free to contact us below.
If your enquiry contains strictly confidential information, please leave your contact details below and the lab host will contact you personally.